Our world-class shooting studio is among the largest in Asia
Attentive one-stop service
Planning , Suggestions to acting instructions , Shooting and Dara processing
We offer a one-stop service for comprehensive motion capture design, including suggestions of shooting plans that meet your needs, assignment of various software applications, instructions to actors and actresses, and many more.
Improve efficiency , Cut down the cost
Our motion capture technology faithfully reproduces any comples motions .
The technology can significantly cut down the cost of producing large-volume animations . Our technology can be shooting at most 20 people's motion at the same time . It enable to reproduce of motion linked with other people.
Service contents
Shooting
Preparing a motion list , defining a shooting plan , booking actors and actresses , coordinating travel arrangements , preparing set pieces and props , shooting management , operations , video recording in two video sets , and other services at the shooting site .
Data processing
Cleaning up shooting marker data , adjusting motions for the body shape differences between characters and actors/actresses , looping , motion blending .
Delivery (various 3DCG format corresponding )
3cd, BVH, TRC, FBX, as well as MAYA, XSI, 3dsMAX, Lightwave, and others
* Please feel free to contact us for formats other than those listed above .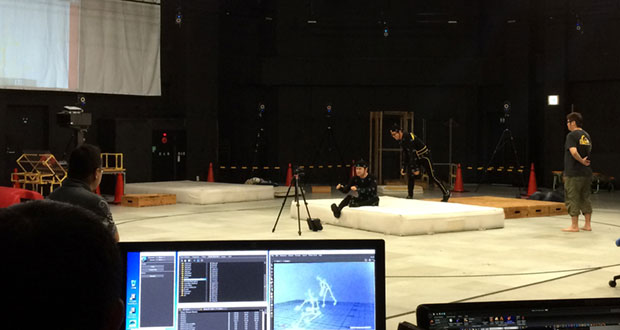 Equipment outline
For motion capture studio
Effective shooting range : cuboid shape 10m (length) × 11m (width) × 4m (height).(capable of aerial shooting with wires)
Performance capture can be shooting maximum 20 people at the same time.
By adjusting the camera's position, we can capture motions of the face and the hands as well.
Corresponding to the high-speed shooting of 1200fps at maximum.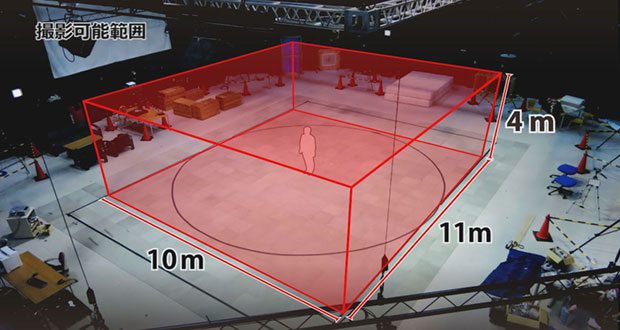 Installation function
VICON Co. T160 camera × 32 units
Virtual camera
A work station suite for data processing
Large projectors and full display equipment
A suite of professional software applications (Blade2, MotionBuilder)
DV camera x 3
Equipment for wired actions (two-point)
Accessories (set pieces, props, body suits, and others)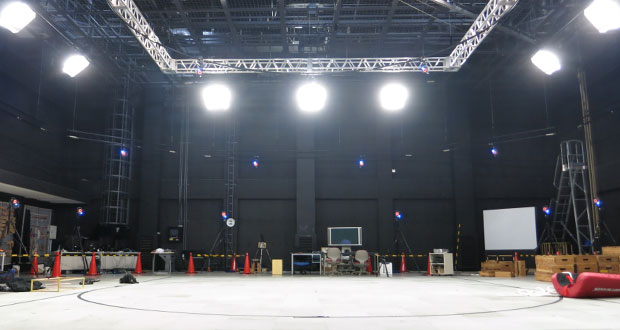 From your request to delivery
STEP.1
Suggestion of a plan
Please let us know the outline of your project , deadline , the expected volume of motion , etc. We can provide you with a detailed explanation of motion capture , and a tentative plan for shooting and production .
STEP.2
Discussion
Please discuss with us in detail about the list of motions , arrangement of actors and actresses , need for set pieces and props , shooting dates of your choice , deadline , budget , and other issues , and we will then give you our quotations .
STEP.3
Studio shooting
We set up markers and take care of the shooting . In case the rendition has to be coordinated with the motion capture technology available , we can take care of rendition at your request .
STEP.4
Data processing
We prepare the capture data in a state that's easy to clean up . We also import the data into various CG applications , such as Maya and XSI .
STEP.5
Delivery
We deliver the data to you via the transfer medium of your choice , including CDs , DVDs , and FTP . We will also deliver a video recording of the shooting , as DVs , VHS videos , movie data , or others .